---
Screen printing workshops at the sieben
Who wants to learn silk screen printing, can do it at the sieben. No previous experience is required. The workshop includes the motif design by hand or digitally. Likewise the draft can be printed on your own textiles. The tools are available.
The next classes in Hamburg, Germany:
- 10th, 17th + 18th of February, 2017
- 17th, 24th + 25th of March, 2017
Futher information: www.die-sieben.net
---
Mein Testgelaende: A Christmas review
The Story-Teller Dennis Seidel slips into the role of the American woman Lindsay Homealone and shows us how she celebrates Christmas. This video is a contribution of the barner 16's literature work shop for the gender magazine Mein Testgelaende.
---
Christmas vacation 2016/2017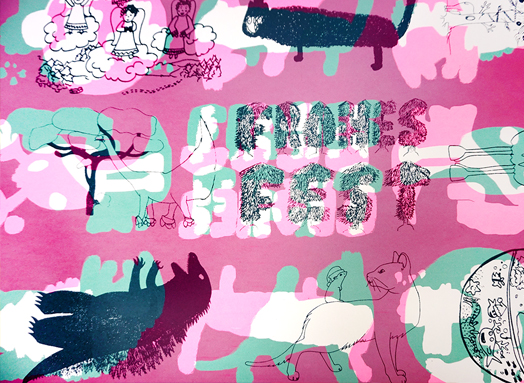 The barner 16 is on christmas vaction. Our locations and their closing times:
• Sieben, Friedensallee 61, 22765 Hamburg (GER)
24th December 2016 - 8th January 2017
• 17digital/17motion/17records/17booking, Barnerstraße 16, 22765 Hamburg (GER)
21st December 2016 - 3rd January 2017
• Meine Damen und Herren, Feldstraße 66, 20359 Hamburg (GER)
21st December 2016 - 10th January 2017
• barner 16, Barnerstraße 16, 22765 Hamburg (GER)
23rd December 2016 - 9th January 2017
Merry Christmas & Happy New Year!!!
---
barner 16: Video Advent Calendar 2016
Until the Christmas Eve every day a new little video door opens in the barner 16 Advent calendar 2016. This visual project is in different video formats and with different people, but only with one story. A production by Höbke Loof and Josephine Schwenke during her voluntary cultural year (FSJ) in and for the barner 16.
---
Sounddrops: a cappella double concerto with Sixmix
Two rather different ensembles without instruments have prepared for an a capella double concerto on Saturday, the 10th of December, 2016 in the resonanzraum, Hamburg (Germany) featuring:
- Sixmix, a cappella ensemble from Hamburg & Cologne
- Sounddrops, a cappella ensemble of the barner 16
---
Station 17-TanzBar mit Das Wunder von Bärnd
DJ Zetzschmo invites you to the Station 17-TanzBar. The next party will be on Monday, the 5th of December, 2016 at Monkeys Music Club. This month features special live guest Das Wunder von Bärnd, a music group founded at a workshop and formed by a drummer, several singers, a keyboard player, two guitarists, a percussionist and a bass. They play some songs for you which they have compiled with a lot of passion. Have fun!
Page 6 of 63